Up next: AWE in Munich, not up: Facebook AR

What's up next?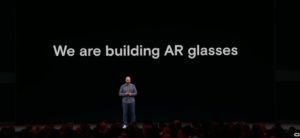 Busy days. Actually, I just wanted to publish an article titled "Facebook refuses to show their AR glasses". As they did during Oculus Connect 6 just last week. But then again… what to talk about if they don't actually show anything? Well to be fair, they showed a little bit. They talked about ongoing research, presented their own AR cloud titled "live maps" to create a digital twin of the world. What struck me there was the phrase with "intrinsic meanings of objects": seems like Facebook will be integrating a form to actually understand objects within the world. This could dramatically help out AR and allow new and better applications (and tracking of objects and – even more – of people's behaviour).
But then again, it was still too far off, without details and only showing a pretty marketing video where no one (yes: no one) was wearing any device at all to dive into the digital mirror world. So, guess we stick to the stuff we CAN actually see today. This brings me to:
Augmented World Expo returns to Munich on Oct, 17+18
As listed with other conferences before, AWE will be back in Munich and augmented.org is again media partner to report on new developments and show off some highlights here. (If you have a demo or booth and want me to stop by, make sure to drop me a mail or connect via linkedin! Happy to say hi!) So, what to expect during AWE EU 2019?
Agenda getting filled up
The agenda and speaker list seems complete and we can all start to plan our two days at AWE. If you are interested to learn more about the big industry players, it's worth to check out what Boing is doing with their AR Kit (BARK) for airplance manufacturing. A panel will discuss how to overcome barriers to adopt AR in your industry. Another big panel will talk about how to get the content out to the masses ("from content to deployment") with big players like Audi (plus HoloRid) or Telekom. Sometimes the tech is there, but just no one uses it.
Talking about the big players. Google will also be present and show us their work on immersive computing. No further information given. I don't expect the big bang, but worth to observe. If you are more into Facbeook and AR using your phone, their Spark AR session could give your developer a heads-up on DEV in this field.
If you are looking for more solid engineering from Germany, it's worth to check the sponsor Bosch (hopefully bringing their HoloLens 2 demo) and innoactive, who just extended their MR training tool to aviation in FRAPORT and Munich.
The AR cloud as the hot topic
Not only Facebook is working on their digital twin with their live maps. Multiple sessions during AWE focus on this hot topic. E.g. the OpenARCloud is showing their progress after one year. I'd like to see the "GeoPose" become the HTTP/URL equivilant of the mirror world! Microsoft is also showing their map of reality and we will learn how to host our own AR Cloud (with YouAR).
Security Concerns go MR
Off the beaten track, it seems like developers and business people are realizing that MR tech needs to meet the high IT standards as any other field of activity. Therefore we get more sessions here: by the team from the XR Safety Initiative, by Andreas Zeitler from Vuframe. Also Volvo will present their work and activities on cyber security. I sure don't want my car getting hacked on the highway, just because some stupid port was left open or the software update got highjacked.
More to see and hear
I'm wondering what innovation we can expect on the conference exhibition. Hugo Boss will show their work on textile industry using AR. Can we expect great wardrobe AR simulations with improved digital mirrors or by projected AR? Speaking about it, L'Oreal will be using the projection approach for their demo in the beauty industry. Quite interesting could also be the review on location-based VR (not AR!), e.g. when discussing the VR rollercoasters. Yes, real rollercoasters (but with VR). This will get you your G-force simulation!
The 6DOFemale panel (the title is so much fun) should be on your favorite list, too. The women panel will dive into all tech (yet to be defined): spatial audio – inside/outside tracking – free roam VR HMDs – volumetric capture – lighting for same – compositing for same branched narrative – gaming/interactivity in story creation – 6DoF – esports in VR – 5G and low latency – AR/VR convergenc – VR metaverses – Integrating neurobiology with Immersive content -WebVR -XR Hardware and content for women -Authentic storytelling and how VR facilitates it through embodied experiences.
The Future
All-time AR pro Tish Shute will be talking about designing the future of spatial computing, more down-to-earth Tobii eye tracking will give us case studies to see how it improves training, simulation and B2B scenarios and the start-up pitches could reveal the next big thing. So, if you are still with energy left, you might want to check out Daniel Seiler's talk on "the way ar might change how we think". This is a must-see for me, as I really like the well thought-out publications from Daniel on blog.aucta.io.
So, after all this. You will as always demand to know… who the winner is during the Auggie Awards to close the show!
Can't wait. See you on the other side, soon!