Augmented Reality Stammtisch München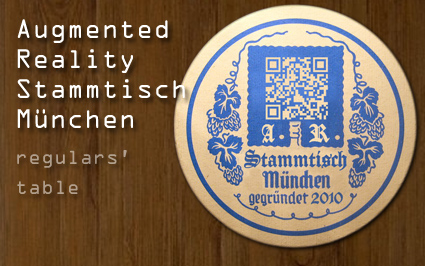 The "Augmented Reality Stammtisch München" will occur roundabout every eight weeks in Munich. We have a regulars' table on AR and VR…
for you to get to know and get involved in the AR & VR community
to exchange new ideas and crazy concepts
to show off with new technology done by your own or by others ;)
to gather ideas for new projects
to discuss the status quo or upcoming hard- & software
to network
… or just for a beer chatting about something completely different!
---
Stammtisch ARMUC
Due to Corona we will currently only meet virtually! Please check out our virtual meetup page instead or directly our LinkedIn group page.
Before, we typically met in person in a bar or restaurant. Lately it used to be the "Ferding's" (see below) or also the impact hub München.
We appreciate if you bring your laptop showing a demo or video, but we are also very happy if you just show up without anything but your interest in chatting, a beer and meeting new people, who share the passion for the technology. There will be no schedule or tops. Just orders to the tap.
To learn more about it:
---
How it started…
ARMUC01 – First AR Stammtisch on March, 2nd, 2010.
We gathered two hand full of people chatting about all the cool topics. Location was Restaurant Wassermann, Fraunhoferstraße. Obviously the biggest part was people from metaio and RTT as their offices lie in Munich. We hope to welcome more people from all kind of fields and other companies next time! So spread the word! And because we are so cool and hightech we have stereoscopic anaglyph pictures of the night: