Glasses or Smart Glasses?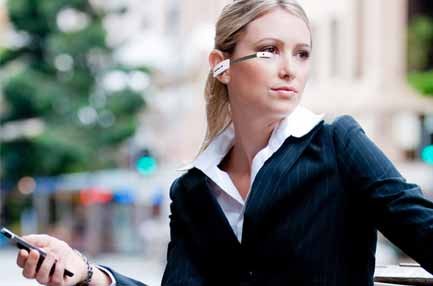 Yesterday Vuzix announced their new AR-enabled glasses!
When they presented their latest prototypes in October (I blogged about it here), they were talking about a new series coming up and the shown version already had some of the features we see today in the new spec on their page. But nevertheless some spec updates: their new HMD (for one eye only… so don't get your hopes up yet for cool stereo overlay) features a WQVGA display (nobody knows how much this is – it is: 432 x 240 pixel, well, yeah, exactly…), 1 GHz OMAP4430 processor, 1GB of RAM and 4GB of internal memory. The device with an embedded Android 4.x can record 720p videos or pix.
Vuzix drops the inform here in their press release. At CES 2013 you should try to already reserve a chair to watch the device:
Vuzix Smart Glasses M100 will be showcased at the 2013 International Consumer Electronics Show, January 8th
to 11t.h Vuzix will be demonstrating a number of advanced hands-free applications with them. Visit Vuzix at the
Las Vegas Convention Center's Central Hall, Booth #14046.
While it's great to hear about more virtual competition arising (no working smartphone connected device seen in the wild yet), I still won't cheer too much about "finally, AR in our glasses!!". It's a great step if they really ship the device mid next year, but then again it will only have 2 hours of battery (when running screen + camera) and moreover: it's still mono and guaranteed no matching overlay of CG information to the real world. Even if companies like Google, metaio, Total-Immersion, etc. created an awesome stable tracking algorithm by January 2013… we would still have the problems of a) terribly bad resolution and b) unknown positioning of your eye towards the screen to fit the overlay…
I still look forward to get the hold of this, don't get me wrong. But the crucial part for nicely overlaid imagery in 3D we need much more. Additional cameras (or something) need to track our pupil position (not talking about focal distance or convergence in stereo yet) to accomplish that. Fraunhofer just showed a new device this summer oberserving the user's eyes. We would need a full package of everything combined (including the right 3D feature tracking software set) to get there! Darn! Some more summers to pass by, I fear!
Keep going! :-)