AWE Conference – Augmented Reality coming home

The Augmented World Expo AR Conference is coming home to Europe, to Munich in October 2017. That's so great! Of course, I'm biased, since I've been living and working there for many years, working with lots of companies on AR, including metaio. Munich sure has been and still is a center of AR activities in Europe – and the world! – and though metaio was swallowed by Apple, other big players like Microsoft or Google are still on-site Munich big time and Bavarian mixture of Laptop and Lederhosen will sure attract more people in the future – and to the upcoming AWE conference! augmented.org will be there and report live from the event. So, why not take a sneak peak into what we can expect today!?
Short Facts
The two-day conference with many talks on augmented reality and a large exhibition area will be held on October, 19th + 20th 2017. All takes place in the MOC Exhibition Center in the north of Munich (easily reached by public transport). This is the European branch of AWE with around 1500 attendees and ~100 speakers as stated by them. I don't care about how huge the event is, but more importantly many big players and well-known hardware and software companies present their work and high-class experts share their superhero wisdom with the crowd. If you have one business trip left to choose in 2017, I'd make it this one. Let's take a look:
The Agenda
You can find the current agenda on their page including a customizable plan. I'd recommend checking out the following:
Day 1
The first day is focusing more on the technology, current use cases and how to implement AR in your processes. Some details (keynote speaker?) are yet to be revealed, but besides some hopefully stunning presentations (e.g. by META), we can see different interesting blocks. One is about the underlying tech like 3D scanning, time-of-flight cameras and the resulting SDKs like Tango or software-solutions with computer vision to understand the world better ("3D Map Data: Digital Scaffolding for the 21st Century"). Tech companies like nvidia show off their latest stuff and I especially liked the title on "Symbiotic AI" – to let computers learn how they should live in a human world – and not vise-versa! Good thought! More tech? E.g. Avegant will dive into light field issues and concepts.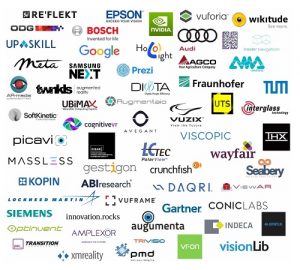 E.g. Bosch and Audi will show how to integrate AR in your enterprise in a productive environment and so will VisionLib, talking about killing the pain from going from prototype in a controlled environment out into the street. Other companies will showcase their stories and let the newbie learn about where AR is being used in the industry today. E.g. using AR for logistic scenarios for pickers or allowing better in-house navigation in factories and warehouses. HOLOGATE will talk about location-based VR/AR entertainment today.
Currently used technology will be shown on day 1, too. The usual suspects will present their latest SDK updates and let us know what they have in stock, like wikitude talking about how to go beyond ARKit and ARCore (which is honestly quite restrictive). Vuforia will present their new model targets feature to better include real world physical objects. Also web-tech like A-Frame will get it's moment.
Day 2
While day 1 focused more on technology and the status quo, the second day is more content- and crowd-driven. By crowd I mean companies and people who want to present and pitch their ideas and connect. Special slots for Startup Pitches and an Investor Networking Event are planned.
More talks dive into design, content creation and tools, user interface design in an MR space and what we need to think about. "Immersive Entertainment" will tell us about the impact on music, film, TV – the old media. How will AR and VR even change art and the creation of art? Storytellers should gather to listen to "Imagine" and the future of their métier and the talk on "Exploring the Frontiers of How Storytellers Are teaming up to Transform Lives with VR".
To me, it sounds like a good mixture of content, tech and future vision. Ori will wrap it all up and also announce the Auggie Awards winners on day 2 – for the best and innovative AR concepts. Do you like the agenda? What is your favorite? Happy to hear about it via @augmentedorg with #AWE2017.
Make sure to check out my daily updates on AR and AWE on twitter, facebook and google+!
Get in touch & see you there!
So make sure to join! If you have read this far, you are worth a benefit! If you send me a mail to AWE-at-augmented.org you have the chance of winning a 45% discount for the ticket! (Lottery on Oct, 5th!) I'm also happy to meet up with you during the conference, let me know your thoughts. If you are in Munich longer, be sure to check our regular's table #ARMUC and enjoy the (hopefully) sunny fall in Munich. My tip: check out the surfer's wave Eisbach with a bottle of the best local beer: an Augustiner.
Prost!