Lasertag 2.0 lets you get paranoid and breathless with AR

Time to mention the crowdfunded campaign from Proxy42 with their project called Father.io. They show their idea and off with a cool, action and fun concept video on an augmented reality massive multiplayer shooter game. You really want to try it out after seeing the video! Two parties will need to conquer hexagonal districts of the city (waving towards Google's Ingress) and anyone on the street could be your enemy or buddy. It shows a demo of users with attached infrared boxes to player's phones.
Francesco Ferrazzino, chief executive and lead developer of Proxy42 stated "We invented Father.io because we want to disrupt the gaming market, which has not had so much innovation in gaming experiences. […] We want to make video games become real." and "While the basic, location-based, strategy gameplay is free and requires no additional hardware, the 363R Trigger transforms Father.IO into a multiplayer, first-person shooter game the likes of which we have never seen. For this reason, we are launching this pre-sale to fund the production of 5,000 initial triggers for gameplay."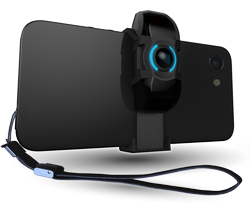 An infrared sensor called "363R Trigger" can be optionally attached to the phone. This IR receiver and emitter will work as your ray gun as in lasertag games and also be the device to recognize if you got hit. This device should allow a working & shooting radius of 50 meters. The 363R Trigger is supposed to sell at a pre-sale price of $59 and shipping planned for Q3 2015. An additional tech demo video on the website shows a prototype of the device, but does not really reveal too much, unfortunately. You cannot really tell anything about accuracy or reaction times.
The game itself looks quite ambitious with a big backstory on competing parties and a well-done world design. The technical part also shows bigger plans including a SDK for developers for iOS and Android… So it's time to wait and watch the cool video:
As said, the video gets your saliva flowing, but that happened quite often before. We don't know a thing about reaction times or accuracy. The very fast movements shown in the video would really need to work this way to have a real experience. But maybe it is also their approach: until we get better devices we can focus more on the strategic element of the game with the standard mobile and browser-version… let's hope for more to come soon!