Turn your world into a game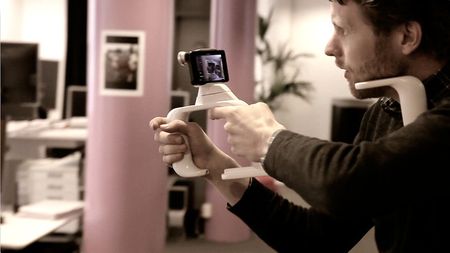 Want to run around in your house or office playing first-person shooters with your friends in an mixed reality setup?
The fellows from 13th lab (who e.g. brought you Minecraft Reality) are pledging on Kickstarter for this idea, named "Rescape". 8 days to go, so it is urgently time for you to take a look!
Their solution is a piece of hardware (the rifle-styled mount for your smart-device) plus their software SDK, including 3D scanning and tracking components. Quoted: Using advanced computer vision and specialized optics to track your movements, Rescape lets you digitize the real world, pull any canvas you want over it, and then have you and your friends blow it to pieces!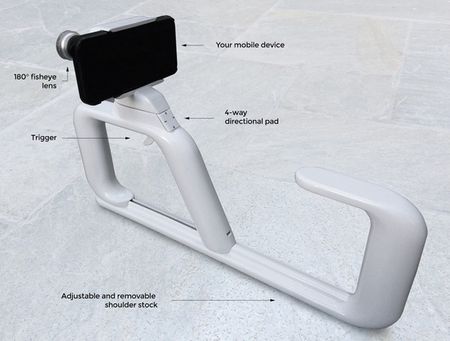 So, their approach is more of a mixed reality rather than a visual augmentation to be finicky. But the immersive experience within your real environment looks damn promising (in their promo videos).
The want to offer a Rescape SDK, the game controller with specialized optics (with strap-on 180° fisheye lens) and mount for your smartphone. By using the SLAM approach they plan on reconstructing, scanning the real building and giving a full (6 DOF) positional tracking in real-time.
Their SDK would be 100% free, giving a C interface and Unity support for first demos. It will be available first on iOS devices, Android to come later with a first release to kickstarter backers planned in September.
To make it real fun, they want to support multi player with friends – having them even replaced by Avatars. This looks a bit too good to be true to me. But let's see how it goes and if they can raise the missing money. I cross my fingers!
More technical videos and multi-player demo can be seen on their kickstarter page. Worth a look!
Enjoy!