Nissan shows off Teana with AR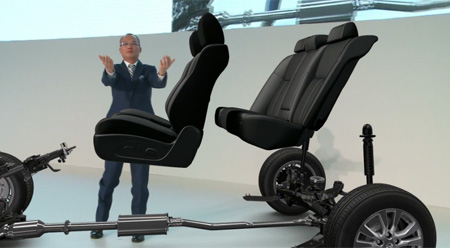 Hi everybody, well, this is concerning my own business today: RTT did a show for Nissan in China. Now we have the video on the web, let me be so blunt to just quote the press snippet from our page:
Enhanced presentation of new Dongfeng Nissan model
For the Guangzhou, China launch of Dongfeng Nissan's new Teana, RTT developed a spectacular Augmented Reality (AR)-based presentation that offered the public a detailed, scaled product experience in a hitherto unknown form and quality. During the unveiling, a virtual image of the Teana was projected onto the stage and orchestrated interactively with AR in front of the public's eyes. This was made possible by tracking the presenter´s on-stage movements in realtime and combining the information with scenes produced in RTT DeltaGen.
"A conventional product presentation is no longer enough to communicate all core messages and USPs of a product in an emotionally-charged, memorable way. That's why we joined forces with RTT and used AR technology for the first time at a launch presentation. The results exceeded our wildest dreams," said Jason Yang, Vice President Sales & Marketing, Dongfeng Nissan Passenger Vehicle Company.
The demo was well received and a great hit. The content creators at RTT did a pretty damn good job concerning the visual quality of the model and the motor blocks, interieur parts, etc. All was rendered and tracked in real-time using RTT DeltaGen. An infrared tracking was used to do the positioning of the two cameras. This setup was pretty challenging since in the big conference hall no close-distance tracking was possible. The cameras were about 8-10 meters away. This of course results in a limited tracking accuracy, that can be observed in images of the moving on-stage cam. Nevertheless, the overall demo went great. Props to the Design & Engineering team! Feel free to comment unbiassed. :-)
Enjoy!