Happy holidays everybody!

Happy pre-Christmas-time everybody!
The year comes to an end with big steps and most of us are prep'ing for some quiet time with our loved ones. So let's lean back soon and enjoy some offline time…. well, maybe with the occasional AR app under the Christmas tree… I've collected some 2015 AR X-MAS experiences for you to get into the mood.
Christmas Demos
The Augmented Reality App from LANDMARK Hong Kong gives us the possibility to color the little bears (Santa Paws!) in a coloring book physically, before the app scans them and converts them into their 3D versions to pop out of the books. Neat graphics and done well. Check it out:
LANDMARK Santa Paws from VISIONARIES 777 on Vimeo.
Last year we had the Nativity set you could drop under your tree to have some technology running on your holidays, now let's go a step back. Probably you don't have your Christmas cards ready to be send out. Maybe this one works out for you. One can touch the Santa & snowman to trigger the next animations. Cute.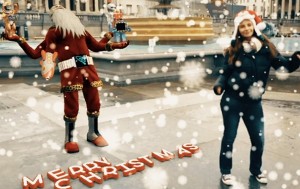 Taking selfies is quite ubiquitous – why not with a dancing Santa in the background. Maybe meet up on the beach? (Record your own video with the app.)
..or go for the dancing Santa and his reindeers to take photo selfies.
… or dance live with another virtual mirror installation.
Past & Present
2015 has been an exciting AR year! Players changing like Qualcomm, metaio being bought by Apple, Microsoft stepping up with yet another live demo of their Hololens and MagicLeap getting a bit on our nerves not revealing anything but some short clips to the public… Let's start fresh in 2016 with lots to come! Next quarter will be definitely focusing on virtual reality with GearVR out already, HTC Vive and Oculus getting shipped soon!
Because we are all excited about upcoming VR consumer version gizmos I've also extended our #ARMUC regular's table to the neighbour universe of virtual reality! So mark in red our upcoming reguluar's table on Tuesday, January, 12th discussing all AR & VR – reporting right after CES!
So, enjoy the time! A merry Christmas and a relaxed holiday season to you all!
All the best!
– Toby.