Industry Visualization
Hey everyone!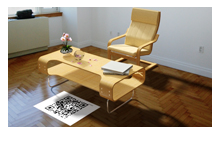 Some news coming from the Visualization part of the industry zone. If you are working for this field you might know or work with tools like pi-Vr's VRED, RTT DeltaGen or Autodesk Showcase to visualize industry designs and prototypes in real-time. While the first two had their AR switch for quite a while now, Autodesk now put up a page in their "Labs" section to give us a preview of their new Augmented Reality module for Showcase 2013. You can try out the plug-in that can handle five QR-coded markers at a time until October 31, 2012. Later, it will be integrated into the product.
While it is good to see that now we are also able to have AR-renderings in the Autodesk world, it is a pitty we do not see any new real features regarding AR. With Autodesk's experience in rendering I hope we can expect further extensions for a final release (more accurate tracking, real-time reflections, etc.). Looking forward to it!
Below you can find a good overview of how to set it up and run the plug-in. Pretty straight forward:
Have a great week!