Publications
Find some selected publications and presentations below.
---

insideAR Conference talk: Simplifying Industrial AR Processes
with Christian Effert from metaio
Oct 2012
---

RTT Excite Conference talk & workshop: Augmented Reality – Solutions for Natural Immersion
May 2012
Presentation on request. Sorry, access currently restricted to conference guests.
---

ISMAR 2011 Official Photographs
Documentation of the event in pictures and blog reports
Oct 2011
augmented.org flickr set ISMAR 2011
blog stories are listed within the months October and November 2011
---

Wirklichkeit 2.0, Magazine Article/Interview (German)
Dec 2009
full article from PC Praxis 12/2009, JPG, 1,3 MB
---
MHP Oriented Interactive Augmented Reality System for Sports Broadcasting Environments
May 2006
First presented at the 4th European Interactive TV Conference EuroITV 2006, extended and revised for JVRB (JVRB.org).
We demonstrate a sample application introducing "Interactive Augmented Television" for sport broadcasts additionally with 3D virtual objects in order to enhance or alter the presentation of the match with a new interface. We also introduce a pure virtual world where the user can select the camera position. Due to the real-time compositing full interactivity for the user is possible. Individually, for each user there will be unique presentation. A back-channel allows the possibility of a variety of value-add features for the viewer and the broadcasting company.
---
Interactive Augmented Reality in Digital Broadcasting Environments
October 2005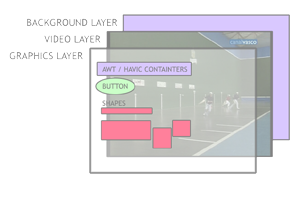 This work describes the future vision of "augmented reality television" (AR-TV). Postproduction used to be long and hard work: it can be seen in all types of movies these days for visual effects, but is always ready-made when it reaches the televisions at home. With AR-TV this process of inserting graphics into the video will be shifted to the very same instant the signal is broadcast to the viewer. During display additional 2D or 3D content, graphics, annotations, advertisements, etc. will be inserted in real-time – with correct perspective and occlusion. This enables the broadcasters to allow full interactivity – unique for each viewer in front of his or her TV set.
Basic research is done in this project, visions for personalized future television is proposed and real-world try-outs were done to investigate if and when this approach will be feasible in the market. The basque sport pelota serves as an example (real-time advertisement) and DVB-x carriers are used, including Java JME and MHP for programming and streaming media content.
---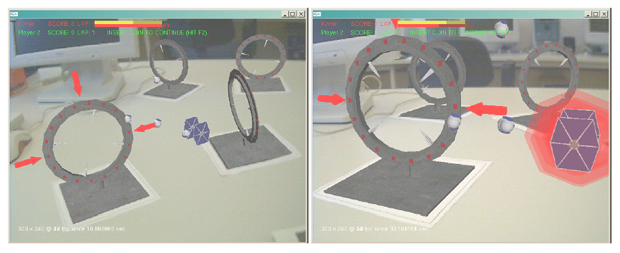 Development of an Augmented Reality Game
September 2003
full paper (German), PDF, 4.3 MB
An interactive Augmented Reality application has been developed, realizing a 3D spacecraft to be flown through your room, completing different stages and fighting enemies. The player has to put marker patterns around in his or her room and define the course through it: each pattern will show a gate, the player has to cross in order to complete a lap. Enemy crafts will impede your way to victory. Fly and shoot with a joystick while wearing a HMD to get the best experience. The work uses the ARToolkit as a base and can be played with any webcam and joystick.
The work explores AR in general, but also deals with different means of interaction and studies on their usability. E.g. marker based menus: by collision detection or by twisting markers like a monkeywrench, etc.